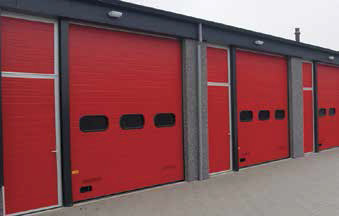 Sectional Overhead doors as the name suggests are made up of several sections (panels) that slide up and follow the roof or the ceiling, depending upon the ceiling height. The operating mechanism is spring loaded which reduces human or motor effort required to operate the door. Apart from the space requirement, sectional overhead doors seal the area completely and reduce the energy loss, minimise air and water penetration and provide proper temperature regulation with high class insulation property.
Euromatic industrial door systems are made of steel or Aluminium panels which guarantee maximum security and reliability.
Our Doors are specifically designed to suit the modern industrial architecture. We offer a complete range of overhead sectional doors,  either insulated sandwich panel doors or  glazed doors. They provide good air tightness and insulation. They can also be supplied as fully covered or semi-glazed versions for optimal dayligh exposure.
Sectional overhead doors are made of high grade pre coated galvanised steel.
Sandwich panel 40 mm Thick filled Polyurethane Foam.
Environment-friendly PUF insulated panels
Our industrial sectional doors can achieve sound insulation up to a certain limit
Industrial doors are attractive, robust, durable with different type of textures
Industrial door systems are adapted to local conditions to facilitate tall buildings.
Modern panel design
The sandwich panel has a microrilled design, or stuccofinished or flat plain surface, which in combination with a glossy colour finish gives the door a modern, attractive and unique appearance.
Glazing
Glazing alternatives vary from full-vision panels to individual windows in a rectangular or oval shape. The windows are available in acrylic
Fixed sections
Door openings are often changed to comply with new demands. Unnecessarily large door openings can advantageously be filled with fixed sandwich panels. The erected fixed sections are excellent for the positioning of pass-doors.
The overhead sectional doors are designed to be used in applications like warehouses, logistics centers and all kinds of production plants. The design is optimal for customers who need robust, well-insulated and spacesaving doors in the outer walls of industrial premises. The sectional door slides up under the roof when opened, allowing free space around the door opening and leaving it completely free.
A high quality, 40 mm thick, sandwich panel provides good insulation values and corrosion protection. This, together with a number of operational options, means that our door meets practically every individual demand. In addition, our doors are is de-signed to meet the highest of the CE standards.
Garage Doors
Automatic Garage doors are one of the most popular and practical choices for style, safety, security, easy to use and versatile. ​Euromatic brings you the best design to suite the aesthetics of your home.
With our garage doors you are able to use complete length of the driveway and they give you more space both inside and outside of the garage.​ ​ These doors are manufactured from galvanized steel with almost any colo​u​ r or wood grain finish​.